Hi I am Posting Translated version of Latest Uc Player 3.0.5.21.you have to uninstall old version before installing this. Otherwise you will face update error
= Supported formats =
.MP4,.AVI,.FLV,.WMV, .3 GP, .3GPP,.MKV,.RM,.RMVB,.F4V
New Features :
1. The new UI,to bring more fresh feeling.
2. A new video navigation center,through professional channels and categories,to provide comprehensive,direct,rich video content recommendation
3. Intelligent video version of choice,allowing you to choose your focus,you choose from our video version of your player
4. More intuitive local video list,by the way you capture the video preview.
5. Optimizing video search,video search offers a more convenient way to search hot words recommended,making it easier to find the hottest most recent fire video.
Function optimization:
1, the optimal decoding core performance, enhance the H264 encoding format of the video decoding part of the efficiency
2, the video call optimized UC UC browser page access experience
Fix the problem:
1, solve the video buffer to 3% of the UC prompt to play, the standard state ofthe play button under the screen does not issue
2, to solve the screen flicker when online live buffer issue 2011.11.08 UC Symbian platform 3.0patch video package updates:
First, the new features:
1, support the UCWEB page playback
Two, BUG repair:
1, modify,and mobile video software, the issue of conflict Special thanks to Friends of the faithful on the new version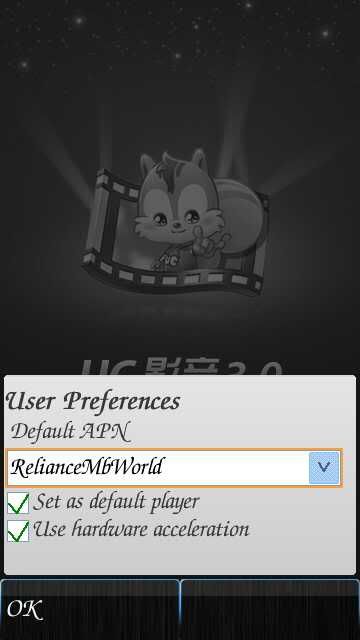 UC Media (formerly UC player) supports RMVB, RM, etc. format,currently only supports S60V3, V5 series models.UC is an online streaming audio and video media player software,are UCWEB browser extensions,for the mobile Internet users with a more simple and effective solution for online streaming media.Released a new video playback capabilities,enabling the super-video data compression technology,the picture clearer,smoother!Whether live or on demand,can bring you the cool smooth feel,allowing you to fully experiencethe mobile multimedia world of fun!
New Features:
1) Increasing the system decodes the control interface,local video playback.
2) Increasing the drawing mode settings (some models because the phone system compatibility,drawing may not be normal,then you can switch the mode to see drawing).
Optimization:
1) The optimization of potatoes Youku and other video download.FLV playback stops.
2) A clear version and optimize the online version of the big screen resolution and smooth.
3) Optimize the video smoother,more fluid play.
4) The optimization of video recommended to reduce the download seed time,to accelerate the speed to open.
5) The optimal access point pop-up box, not many local players access point selection pop-up box.
6) The update recommends adding tips.
BUG FIX:
1) QQ splash screen problem fix.
2) The repair part of mobile phone audio free graph problems (can be set to switch drawing to resolve).
3) The repair can not play rmvb file association problem after.
4) The repair part of the mobile phone player to exit full screen background question.
5) The dynamic process of repair networking problems flashing circle.
UC_Player_3.0.5.21.sis